Welcome to this Website for collectors and other lovers of Postcards, Cigarette and Trade cards and many other forms of ephemera and paper collectibles.  While based in Sydney, Australia  the New South Wales Postcard Collectors Society Inc has members throughout Australia, and in many different parts of the world.
For details of Membership Fees and to apply for Membership or to renew Membership CLICK HERE
The Society's  ANNUAL GENERAL MEETING FOR 2017 will be held at 7.30 pm on 2 AUGUST 2017 AT PHILAS HOUSE,  17 Brisbane Street, Sydney.
To view the agenda for the Society's  2016 AGM and the call for nominations of Office Bearers to be elected at that meeting  CLICK HERE
We have now set up a Facebook page to assist fellow collectors keep up with our activities, to communicate with others about cards and collecting, and seek information and knowledge about cards, publishers, artists, etc etc. To reach that page CLICK  HERE
The Society normally holds four great fairs a year at the Imar Community Hall, 2a Fitzroy St Croydon. (For location  CLICK HERE) from 9.00am to 3.00 pm, at which there are literally tens of thousands of cards and items of ephemera and other collectibles for sale- many of which are now 100 years or more old!    To see some items that have been found at one of our past Fairs  CLICK HERE.  
The Dates for the Society's Postcard and Collectibles Fairs during 2017 are:
Sunday  26 February 2017
Sunday 28 May 2017
Sunday 20 August 2017
Sunday 26 November 2017
The Fairs are a great place to meet and converse with other collectors and dealers, and to get some idea of what is involved in the hobby of collecting cards and other paper ephemera and its joys and challenges.
The fairs are held at  the  IMAR Community Hall. 2a Fitzroy St Croydon.  In addition to vintage and modern postcards, there will also be a range of other paper collectibles such as old books, magazines and brochures, Trade Cards, Cigarette Cards, and philately. Entrance is free, and great morning tea, lunch and other refreshments are available. With any luck you might find cards like these:
The Society also has a regular informative and entertaining Bulletins, two postal auctions a year (currently in suspension pending the identification of a willing volunteer to conduct them) and periodic committee meetings at which all members are welcome to attend as observers.
Postcards, Cigarette and Trade cards:
depict almost every aspect of human activity, endeavor and interest
 provide vivid and often attractive  images of great relevance to a very wide range of people with interests as diverse as local history, military and naval history, Australiana, advertising, sports such as cricket or football, art nouveau, entertainment, ethnography, anthropology, railways, shipping, aviation, fantasy, children's art, animals and birds (both domestic and wild), glamour, humour, rural life and traditional industries such as timber, mining, wheat and wool, fine arts, crafts
are keenly sought by those interested in particular countries and regions of the world (from very large and famous cities to remote and isolated islands).
provide wonderful examples of a very wide range of graphic art and its techniques over more than 100 years
 provide philatelists with rare and highly collectable postmarks and (occasionally) valuable stamps.
A regularly rotating selection of images depicted upon cards and ephemera collected by members of the Society are showcased below to illustrate the range and depth of interests of collectors of these wonderful "pieces of old paper". To see the other items which have previously been showcased  CLICK HERE
Harbour Bridge under Construction. 1930
This real photo postcard depicts the progress made in constructing the bridge which had been made by October 1930. It also depicts one of Australia's few warships of the time: HAMS Canberra. The card has a 'Kodak' back. It was … Continue reading →
L'Australie. By Lieberg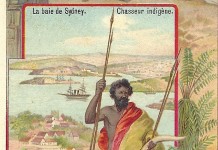 This is one of 6 cards in one of the hundreds of  sets of cards produced and distributed by the Liebig company, largely in Europe, to promote the sales of a meat extract paste manufactured by that company. The card … Continue reading →
"Refreshments" by Ida Outhwaite
This is one of 6 cards published in Series 71 by A&C Black of London in the early 1930s. The image origionally appeared in a Children's book entitled "The Enchanted Forest". Ida Outhwaite, nee Rentoul, was born in Australia and, … Continue reading →